Consider eating a little less meat, eggs, and especially cheese. When we do purchase these items, look from regenerative, sustainable, high animal welfare family farms. Ideally, we feel farm animals should be born, nursed, and raised by their mother and live within their herd or flock. They should live free from mutilations including tail docking, de-beaking, dehorning, and castration without pain medication. Farm animals should live the majority of their lives outdoors, on pasture, with plenty of room to express their natural behaviors. Factory farms allow none of this. We support farms that raise heritage breeds. Please purchase meat and eggs at the following farms, and others, where sustainability and high-animal welfare standards are the norm. Both small organic and large industrial dairy operations separate mothers and babies shortly after birth which disqualifies them from this list. If you know of a dairy that does not do this, please let us know about them.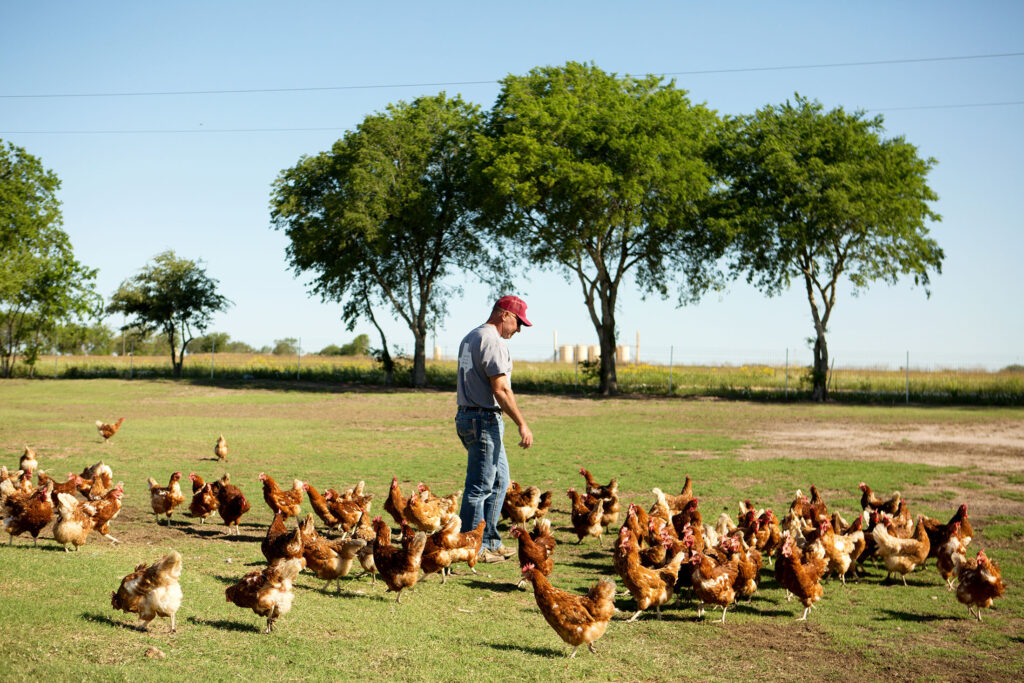 Barry County
Crane Dance Farm, LLC. (Animal Welfare Approved by AGW,) Middleville, MI – Beef, Eggs, Pork, Local Delivery, On-Farm Pickup
Berrien County
Finns Ranch (Animal Welfare Approved by AGW) Buchanan, MI – Beef Cattle, Eggs, CSA, local delivery or pickup
Verdant Hollow Farms in Buchanan MI (Animal Welfare Approved) (purchase online,
Cass County
Cheboygan County
Ingham County
Trillium Wood Farm is in Williamston, MI, we believe that allowing our animals full access to pasture fosters a healthy, symbiotic relationship between them and the land. Animals are meant to live outside, period (with access to shelter!). When they are given the right conditions and diet (grass, roots, bugs, and local grain for some) they rarely need intervention on our part. We emphasize preventative, natural care and only bring out the big guns of pharmaceuticals when necessary–as an obvious part of humane practices is not letting animals suffer unnecessarily. The end product is healthier meat for you, the way it was meant to taste. All of our local meat comes from pastured and grass-fed animals, including cattle, bison, sheep, hogs, and poultry which are rotated through scenic, grassy fields on Trillium Wood Farm or our partner farms.
Lenawee County
Lane View Farm Located in Cement City, MI (Need more information about this farm) Meat wholesaler, Angus cattle using a grain- based diet, with free choice alfalfa/grass hay at all times. Member of the Washtenaw Meats community of farmers.
Webbed Foot Pines Farm LLC Located in Adrian MI, they have chickens, ducks, pigs (based on their FB page, everything looks pasture raised but more research is needed) Lucas, his wife Katie, and their kids all work the farm.Member of the Washtenaw Meats community of farmers.
Needle-Lane Farms is in Tipton, MI raises Registered Berkshire and Hereford/Berkshire cross pigs on pasture. All of the animals enjoy grain, hay, produce from the organic veggie side of the farm, and lots of nuts from the trees in their pasture as well. No antibiotics or hormones are used. Troy and Beverly Nickle along with their two young children take great pride in raising well loved and cared for animals from birth to finish. Member of the Washtenaw Meats community of farmers.
Mackinac County
Elmwood Farms Gould City, MI (In the UP) – no website Beef Cattle (Animal Welfare Approved)
Midland County
JNelson Farms 280+ acre farm headquartered in Hope, Michigan. They are certified with the Michigan Agriculture Environmental Assurance Program (MAEAP) as a livestock operation. As a 100% grass-fed and grass-finished beef operation, it is the mission and vision of JNelson Farms to provide a nutritious, responsibly raised, superior product. Pastured meats and regenerative land practices. We are grateful for the mentoring of friends and experts at Michigan State University as we've made the journey from crops to cattle.Member of the Washtenaw Meats community of farmers.
Monroe County
BP Farms (Dundee Michigan) (Grass Fed and Finished)
Muskegon County
The Pasturage Montague, MI, north of Grand Rapids – Sheep (Animal Welfare Approved by AGW) sold direct from the farm and available for sale at the Muskegon Farmers' Market at stall 148. To place an order, contact Julie Engel by calling (231) 288-6112.
Oakland County
Good Times Farm Rochester, MI – Beef Cattle (Animal Welfare Approved) Our cows are born and raised on the farm, fed and finished on grass. We follow non-GMO practices. The cows never receive antibiotics, vaccines, or growth hormones. Naturally bread. Weaned when they reached 8 months old on grass. In turn this creates the highest quality, nutrition packed beef for you to enjoy.
Osceola County
Apsey Farms is in Reed City, MI, we practice regenerative agriculture. Through holistic management and rotational livestock grazing, we build soil, sequester carbon, and improve the environment. Treated humanely at all times, raised as nature intended, with fresh air, grass & water, 100% grass diet, while a grain diet can make cows sick14, no antibiotics, no hormones, & no grains
St. Joe County (hour south of Grand Rapids)
Washtenaw County